Even though I couldn't be with my family for Christmas this year, thanks to
Face Time
we were still able to open our presents together. Isn't technology grand?
I was thrilled at the thoughtfulness of the gifts from my children; both of them did so well at picking just the perfect presents for me.
Image from Coatt
Baby Girl and I share a love for museums and unique handcrafts, so I was thrilled with the very unique Morse Code necklace that she found for me at the Metropolitan Museum of Modern Art. It was designed by Rebecca Coagan Scharlatt and is also available in her
online store
. Each necklace is made of a fine silk rope strung with gold beads and tubes representing dots and dashes of Morse code.
My necklace has seven tubes and no beads, representing the code: dash-dash dash-dash-dash dash-dash, which translates to "mom".
*sigh*
I love my baby.
My boy had a bit of help from his girlfriend choosing my gifts, I think; although he's quite capable of choosing gifts all on his own that bring tears to my eyes. They did their shopping at
Connecting Threads
, starting with a kit to make an adorable
Cuddle Bug baby quilt and matching pillow
, complete with the fabric needed to make the backing.
Of course I was curious if they were trying to...ahem...
tell
me something, and all my boy would admit to is that once I make the quilt I should hold on to it. Knowing that troublemaker of mine, he's simply trying to yank my chain a little, so I'm not holding my breath on becoming a grandma anytime soon.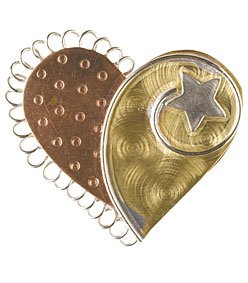 Another part of their gift was a
needle nanny
, which is something I'd never seen before. It's made of metal and has a strong magnet, making it perfect to attach to your shirt or project and hold your needle when you need to take a quick break. And it's so pretty, too!
All Things Cupcake runner kit
, which is a perfect quilt project for a beginner like me. Since I haven't actually started the kit that I bought myself for a lap quilt that was intended to be my first quilt project, looks like this cute runner is going to have the honor of being first. Aren't those colors and fabrics scrumptious?
All in all, my kids did a great job at making their mom very happy this Christmas. They are both planning on coming out to Idaho to visit in February, so I'll have a chance to spoil them both while they're here. They may be adults and all grown up now, but I miss those kids something fierce!
My Christmas present from Hubby was my sewing machine that I told you about
here
, plus all of the other sewing paraphernalia that I've been accumulating since then. Aside from the
pincushions
that I made, I have yet to produce anything out of it, mainly because I was trying to sew on our kitchen table and that wasn't working out too well.
In an effort to make me "put up or shut up" I think, Hubby pulled several bookcases out of a tiny windowless room in the basement we're using to store some of my inventory and replaced them with folding tables.
Then I was able to organize all of my sewing stuff and create a "craft room" of sorts, or at least the beginnings of one.
Now I have a place for my fabric stash (in stacks by color family, or course!), with quilt kits on the lowest shelf and my quilt book "library" behind the doors at the bottom:
This area is for the AccuQuilt Go! and its accessories, and my thread:
And this table is for my rotary cutting mat and tools, and the sewing machine:
The wood shelf sitting on the floor on the right is going to be hung on the wall, after my sweet Hubby prims it up for me first. That will hold sewing notions and tools.
My new craft room isn't very big and is awfully plain and colorless right now, but I hope that it will evolve into a colorful and fun place for me to craft and create. If not, I'm going to have some 'splaining to do! LOL
Hugs,
Pam